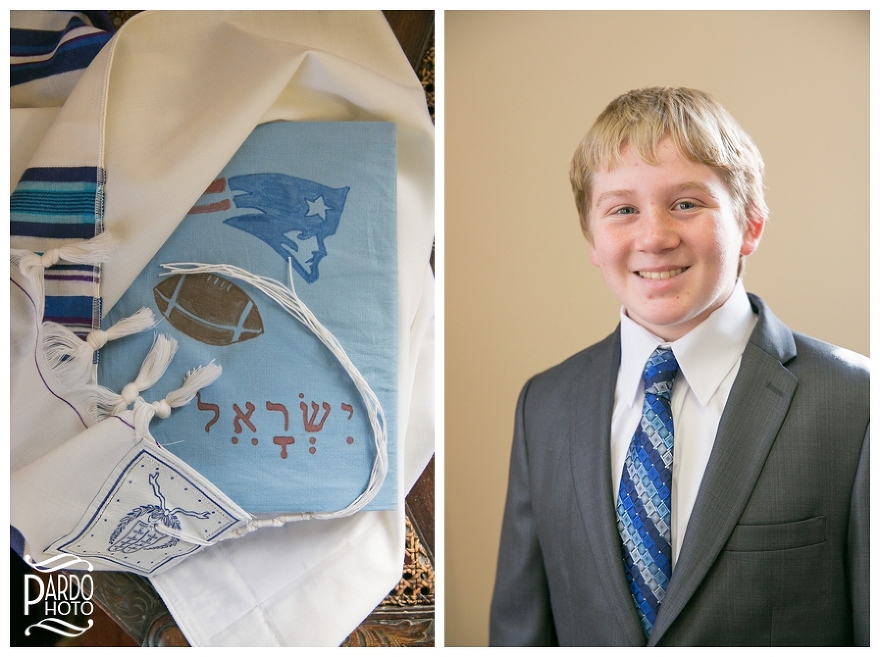 I have known Jacob and his family for a few years now. I met his mom at the YMCA and had the pleasure of photographing their family portraits and then his older brother Robbie's bar mitzvah a few years ago. I couldn't believe it was now Jacob's turn!
So on December 3, I met Jacob and his family at the Temple. I always start with family portraits and one of my techniques to get people to relax in photos is to have them sway together. As soon as I walked in, I thought it was so funny that Jacob and his grandparents were asking me if it was time to sway. They were ready to go!
After the family photos, I took Jacob aside for some individual portraits. The light inside the temple is actually quite beautiful and I was able to get shots of him with and without his Talis. We then went over in front of the ark and Jacob took a few minutes to look over his reading. I am always in awe when the Torah is unrolled and the enormity of the moment begins to sink in. I stayed for a few more minutes to do some candids as guests were arriving and then it was time for me to go.
After the service, I met up with the family and their guests at the Four Points Sheraton in Norwood. The room was decked out wonderfully with giant balloons that spelled Jacob and his favorite team – the Patriots! There was a photo booth waiting and the guests soon filed in. As the party progressed a magician arrived! The show culminated with Jacob on stage being sawed in half. It was fantastic! Next, there was an informal candle lighting ceremony with Jacob's immediate family and then a few more group portraits to end the celebration.
Marci – as always, spending time with your family is such a delight. I am so honored to have been included in Jacob's special day and I look forward to seeing you all again soon!