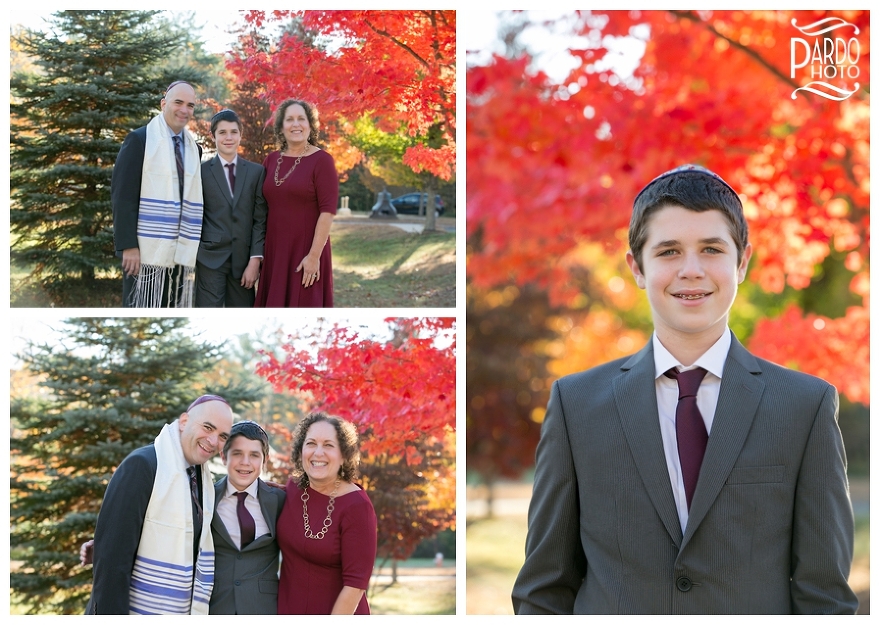 Josh is an outgoing and confident young man, and I was absolutely thrilled to be asked to be the photographer for his bar mitzvah celebration.
About an hour before Josh's bar mitzvah was set to begin, I met with the Tutin family at the temple in Franklin. We did family photos as well as portraits of Josh in front of a bright red tree, and I simply loved the setting—it truly reflected the jovial mood and the excitement of the whole family!
I usually don't get to photograph any of the bar mitzvah services themselves, but I was able to stay for the formal signing of the certificate as well as for the presentation of the talis by Josh's grandparents. That was truly an amazing thing to witness!
After that, I met up with the family again at Three in Franklin. While Josh enjoyed the photo booth with his friends, the adults shared conversations over cocktails. Everyone was just so happy to be there!
After the guests were seated, the candle lighting ceremony began. Josh announced each of his family members and friends, and I was able to photograph each group as they came up to light a candle on his cake.
Then, it was time for the hora, and the dance floor overflowed with guests dancing hand in hand while Josh bounced up and down on a chair. What a joy filled way to kick off the fantastic party that followed—everyone danced the rest of the night away!
Thank you, Linda & Mike, for including me in Josh's bar mitzvah celebration. It was my pleasure to record this momentous event in the history of your family!