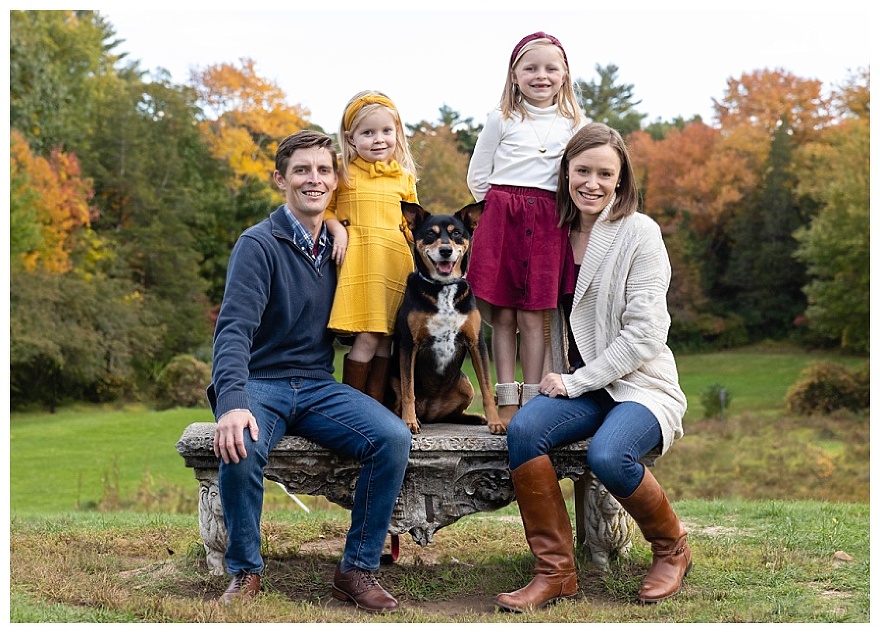 I have been capturing memories and telling stories as a professional photographer for 25 years. Over the course of my career, I have been lucky enough to encounter many different families, each with its unique story and personality. Last year in particular I was able to document those stories in stunning detail in bright, vivid, and colorful portraits, particularly in the autumn months. The mild temperatures and the fall foliage – from saffron to mustard yellow – lasted an extra long time, creating a beautiful backdrop for my family portrait sessions. From large groups to couples, I managed to photograph over 80 families last year and had a blast doing so, making the season absolutely magical!
Fall Family Portrait Photography
Photographing families is an incredibly rewarding experience for me and I believe that each is unique and special in its own way. There is no one-size-fits-all definition of a family. I had the privilege of capturing the essence of all types of families – young kids cheerfully leaping up and down, a couple with their furry Labradors, and countless other charming groups. The mild temperatures and stunningly vibrant foliage made the settings unexpectedly stunning, adding even more warmth and brightness to each session. But most importantly, it was the love that filled each frame that made being part of these memories so meaningful.
I love being able to capture the unique aspects of each family, their energy, and their personality in a wide range of shots. Whether it's a bright sunny portrait with a rooster thrown into the mix, a shot of a family of four by the lake, or a fun snapshot of the kids jumping around, I strive to include images of all the wonderful elements and emotions that make up each family. 
It is always delightful when my clients take it up a notch for their fall shoot by adding bright colors in clothing, from yellows and magentas to oranges and brilliant greens. Not to mention the vividly hued autumn leaves which served as an incredibly vibrant backdrop. To spice things up even more, I am always looking for ways that different sorts of attire can combine with my set-up for great contrast.
It's pure joy for me to be able to immortalize these moments through my work. There's nothing more special than assembling an entire family into one photo! I especially love capturing candid moments like sisters running around playing with fall foliage, little ones holding hands with the lake's serene backdrop, or a Labradoodle licking its owner. These are the moments I truly cherish when I capture their real selves living the moment. 
Book Your Session With Pardo Photo
A big thank you to all families I worked with last year for family portraits. Sometimes it's those little moments that are framed for life. When looking at these photos, you can definitely see and feel all the energy and enthusiasm in each session, which made it such an honor to photograph each family. 
With over twenty-plus years of experience in professional photography, I photograph weddings, senior portraits, corporate headshots, pet photography, and mitzvahs. If you have any questions, you can send me an email, or contact me here and we can discuss how to get you the best photography experience. To check out more of my work, you can visit my website or head to my Instagram, Facebook, or Pinterest.