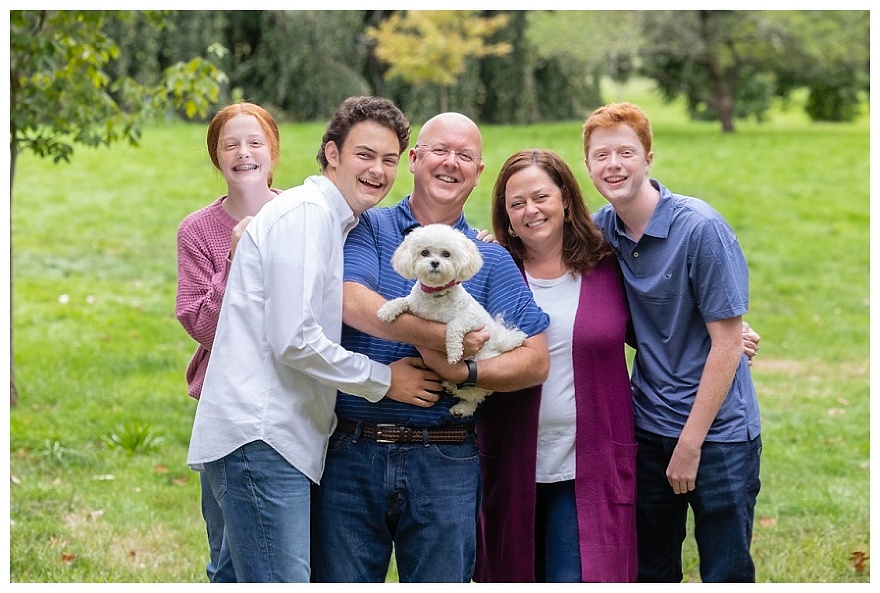 For me, 2022 was an exciting and fabulous year of photographing senior portraits. I got the chance to meet so many lovely young and ambitious people (90 to be exact) and their families. With each senior bringing their own uniqueness and style to their senior portraits photography session, I had an absolute blast freezing this milestone in time. It was such a pleasure to witness! 
Senior Portraits With Loved Ones
My goal when photographing senior portraits is that I want to make sure that each senior feels confident and beautiful during their portrait session and sees a true reflection of themselves when they look at their images. With Massachusetts providing numerous stunning backdrops, it was so much fun to photograph all the seniors (and even some of their family members and furry friends).
As a portrait photographer, I can truly say that the incredible outdoor locations I visited last year with all the seniors were breathtaking. It felt as if summer clung a bit longer just for them! The pleasant weather really set the tone for the senior portrait sessions, and it was remarkable to see how comfortable every senior was in front of the camera. They were total pros! From afternoon strolls in the park with their paww-dorable pets to sunset pictures by the lake, all of my seniors got exactly what they wished for – magical memories that will last a lifetime.
Each senior portrait session had its own special charm, making me feel very fortunate to be part of this momentous time in their lives filled with so much excitement and anticipation. As I captured these charming superstars, I also got the opportunity to photograph their personalities. While some showcased their goofy side or hugged their furry companion, others just simply giggled. Despite all their different characteristics, one common thing that I observed with every senior was their bright sunshine-like smiles.  Moreover, they brought an amazing amount of energy and positivity to their photo sessions, making my work easy! It was also heartwarming to see some of the senior's parents beaming with pride as they admired their child for all that they have achieved thus far in life. Senior portrait sessions are always a pleasure, and it makes me immensely happy to be able to capture this new milestone for them.
Senior Portraits Photography With Pardo Photo
To all the seniors I photographed this year, I just want to give you a huge shout-out for being SO awesome! It was truly a delight to work with every one of you and I wish you all the best in your future endeavors! Thank you again for allowing me to be part of such a special moment.
If you or someone you know also is looking for a senior portrait photographer in Massachusetts, you can contact me right away! To get in touch with me, you can also send me an email or call me at 617-596-9337. In addition to senior portraits, I also photograph weddings, family portraits, pet photography, and mitzvahs. To see more of my work, you can check out my Facebook, Instagram, and Pinterest.