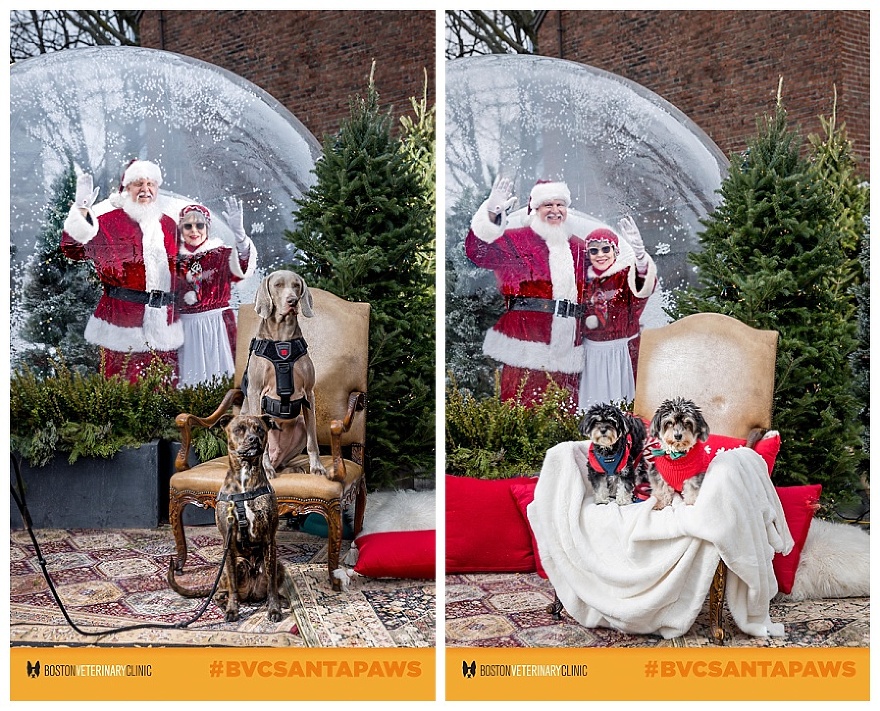 Nothing makes me happier than having the opportunity to document furry friends (and their humans) on camera. Meeting different animals and capturing the joy, excitement, and all their adorable shenanigans is such a unique and rewarding experience. So it's no surprise that photographing the Boston Veterinary Clinic Santa Paws Event in Boston, MA during the holiday season has become one of my favorite things to do every year! 
Each year I'm delighted to take part in this festive photoshoot, which also brings joy to the community who come with their beloved pets (some of them dressed up) to pose with Santa and Mrs. Claus. It's truly a magical event that never fails to leave me feeling elated and grateful for such amazing opportunities that come my way.
Photographing Boston Veterinary Clinic Santa Paws Event 2022
It was an amazing feeling to take part, for the third year, in the Santa Paws event for the Boston Veterinary Clinic. It has grown into quite an event in the years I have been photographing it. This year, the clinic had over 150 families participate with their precious pets – cats and dogs alike – all lining up to get a photo taken with Santa and Mrs. Claus. It's safe to say that this event has now reached outrageous levels of fun. 
There were so many heart-melting moments capturing all the adorable pets with their families, and their playful antics were utterly delightful. I am constantly amazed by the level of creativity that goes into the 'paww' inspiring costumes that families choose for their pets, and it makes me grateful for how each owner values a keepsake memory like this. There were pets of all shapes, sizes, and breeds, representing so many different types of families. From matching sweatshirt sets to fitting Santa hats, even the kerchiefs these doggies and kitties wore had a variety of playful prints – and they all rocked their looks with flair and confidence! 
There were so many cuties  – from the Great Dane and Samoyed in their holiday costumes to the Bengal cat in her winter jacket – posing on red cushions with winter patterns or witty quotes like '#naughty' or '#nice'. Some pets posed in groups with their families, while others, like the duo of Border terriers and the sweet little Maltese, shone in solo shots.  They really looked like they were ruling their charming kingdom while seated on their royal throne. There was an especially warm feeling when the families all smiled together, and being part of that moment was incredibly special. I can confidently say that my time photographing the adorable pets at Santa Paws will remain ever-engraved in my memory.
Book Your Session With Pardo Photo
Thank you Boston Veterinary Clinic for having me photograph your Santa Paws event. I enjoyed capturing all the precious memories of families with their pets, posing, laughing, and celebrating the joys of the season. It was an absolute delight and I'm so lucky to have been a part of it.
With over twenty-plus years of experience in professional photography, I photograph weddings, senior portraits, corporate headshots, pet photography, and mitzvahs. If you have any questions, you can send me an email, or contact me here and we can discuss how to get you the best photography experience. To check out more of my work, you can visit my website or head to my Instagram, Facebook, or Pinterest.