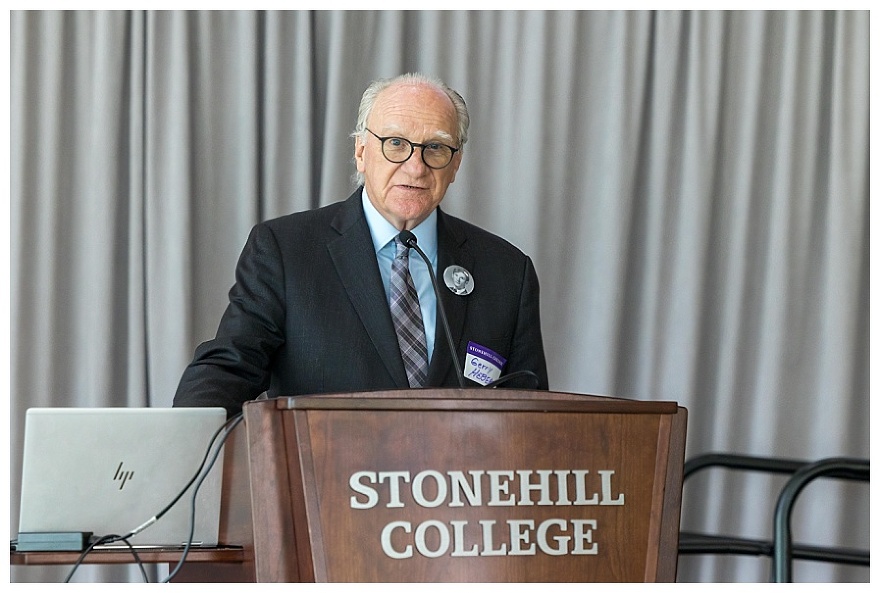 College reunions are a chance for ex-students to take a break from their busy schedules and lives and catch up with old friends and classmates that they lost touch with. Since Covid-19 created havoc with worldwide lockdowns and social distancing rules, people were unable to meet and enjoy college reunions or the company of their former classmates like they did in the old times. Now that rules and regulations have eased, large-scale events like college reunions have made a comeback! And once again, I had the privilege to shoot not just one but multiple reunions at the Stonehill College in Easton. 
A Brief History of Stonehill College
Stonehill College is a private Catholic co-educational institution in Easton, Massachusetts, and was established back in 1948 by the Congregation of the Holy Cross. Besides offering excellent educational courses, Stonehill College has also always provided that 'home away from home' to students with its lush green surroundings and various magnificent Georgian-style buildings. 
I had the pleasure of capturing one of the most exciting and eventful weekends at Stonehill College recently. The college hosted a plethora of activities for its alumni and celebrated three 50th reunion classes and three 25th reunion classes. The grounds of the campus were bubbling with friends chatting and laughing away, with many ex-students reliving their college days and updating each other about their lives. 
Stonehill College Reunion Celebrations
Hosted in one of the many spacious and airy buildings on campus, the college organized a reunion party for its alumni and invited ex-students from previous batches who were celebrating 50 years and 25 years of their graduation. These lifelong friends and classmates reunited for a weekend full of fun, food, and dance, and, of course, to make new memories that they will cherish for life. 
One of the most heart-warming and thrilling experiences at reunions is to capture the smiles and strong bonds that former college students share, and I simply loved seeing everyone reconnect with each other after years, reminiscing about their college days and reliving memories that were made years ago. Personally, one of the best parts was photographing the alumni at the stairs of one of the Stonehill College buildings – everyone was smiling ear to ear, and that's always a pleasure to photograph.
As part of the reunion ceremony, there were multiple presentations which took these proud Stonehill alumni a trip down memory lane and imparted several college core values that these ex-students clearly still remembered very well. Seated beside each other on circular tables filled with scrumptious food and drinks, Stonehill friends and batchmates were busy chatting away and soaking up the moment. The whole event was filled with such amazing energy, it was really heartwarming to witness people share that kind of bond even after all these years.
At the event, the college handed out special "Stonehill College Pillar Society" pins and folders, which were proudly worn by the alumni as each batch posed for the camera with bright smiles. It was the perfect day to capture their happiness as the weather, too, was bright and sunny. 
Some old Stonehill friends also took the opportunity to pose with their college mascot – Skyhawk. Various Stonehill alumni brought along their families to share their love for their beloved college and proudly showed them around the beautifully-maintained campus, where they once lived their young college days, learning and living life. 
I also really loved capturing the outdoor games organized by the college alumni committee, where smiling faces and giggles were seen and heard as this joyous group played, won (and also lost!), and cheered for each other. Towards the end of the day, everyone gathered inside for cocktails and lots of dancing and singing. It really was a great party, and everyone seemed to be having a gala time on the dance floor! And it was an absolute delight to photograph them in their elements, happily vibing together. 
Making Memories Last With Pardo Photo
I would like to thank the Stonehill College Alumni Committee for choosing me as their photographer for their weekend festivities. It was a pleasure being a part of the college's memorable event, and I enjoyed capturing the memories of the Stonehill alumni as I have for the past 20 years, and I look forward to many more!
If you would like me to capture your precious memories, feel free to contact me on +1 617-596-9337. I also do wedding photography, proposals, engagements, senior portraits, pet photography, and mitzvahs. To see more photos, you can visit my website Pardo Photo, and social media accounts – Instagram, Facebook, or Pinterest.