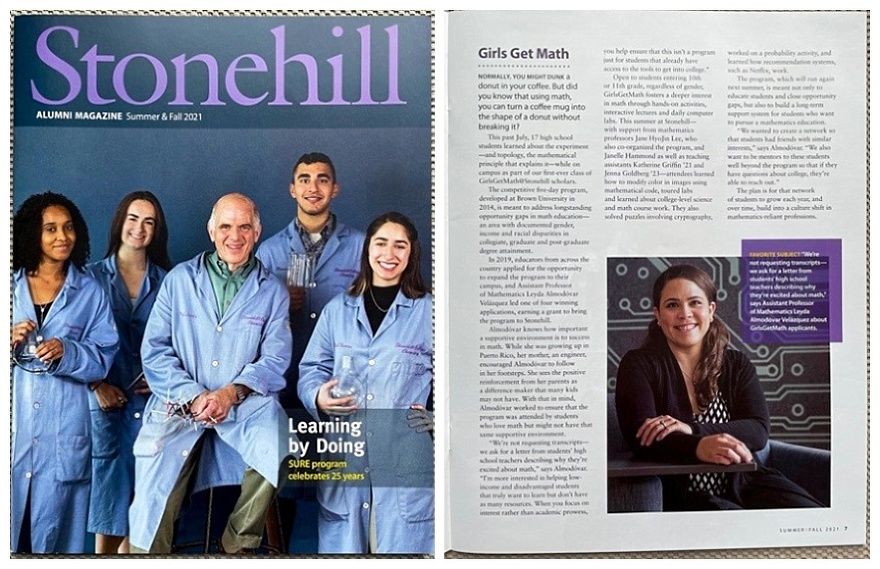 It's been over a decade since I first started photographing for Stonehill College in Easton, Massachusetts, and to date whenever I get a chance to collaborate with them, I get super excited. Especially, when it comes to creating photos for the college alumni magazine. And, this time was no different. I took pictures for the Summer and Fall 2021 edition of Stonehill College alumni magazine – and what an enriching experience it was! The bonus is that I can see my work shine through as a tangible entity, with many students, staff, and alumni holding the magazine with interest and pride. It's a beautiful feeling that not only reinstates my confidence in my work but also motivates me to improve and keep coming up with even better images year after year. So, when this new edition was published, I was beyond thrilled and wanted to share it with you all. Enjoy these excerpts from Stonehill's latest alumni magazine.
Stonehill College Magazine Photography
I've always believed that none of my work can turn out to be great without the support of my amazing clients, and the same holds true for Stonehill College. I have had the great fortune of working with the unbelievably talented team at this college for their alumni magazine. As a result, the latest issue turned out to be just fantastic! 
From the formal portraits put up in the magazine against navy blue backdrops where college alumni talk about their research projects to the volunteer spotlight, this edition of alumni magazine is both attractive and appealing. Also, from the heartfelt outdoor portraits of Liz Hayden discussing her path forward after her husband's death on 9/11 and the class of 2020 celebrating, to a story on Olympic medalist, Tara Watchorn, Stonehill's magazine is filled with wonderful and inspiring stories. I feel so privileged to create the photos to go along with these amazing stories and highlight the glittering achievements of the college. 
Celebrate Your Achievements With Pardo Photo
Whenever I look back at all the years that I've partnered with the amazing Stonehill College, I feel honored to have had the opportunity to create portraits and illustrations for their magazine. I photographed events that ranged from commencement to special speakers gracing the campus to awards of seniors and much more. I am glad to have had the chance to be a part of some very beautiful stories, and all of this has added immense value to my experience as a photographer. After more than ten years of collaboration with Stonehill, I look forward to continuing this relationship into the future and wish the college many more illustrious years ahead!
To all my readers out there, if you or someone you know is looking for a similar photography experience or just wants some stunning senior portraits, I'm right here at your service. I also photograph proposals, engagements, weddings, family portraits, pets, and mitzvahs. You can contact me here or check this out for a session sign-up. If you have any questions, you can drop me an email or make a phone call at 617.596.9337. To learn more about my work, you can take a look at my blog section, and to see more of the photos I've taken, you can follow me on Facebook and Instagram. I am also available on LinkedIn.