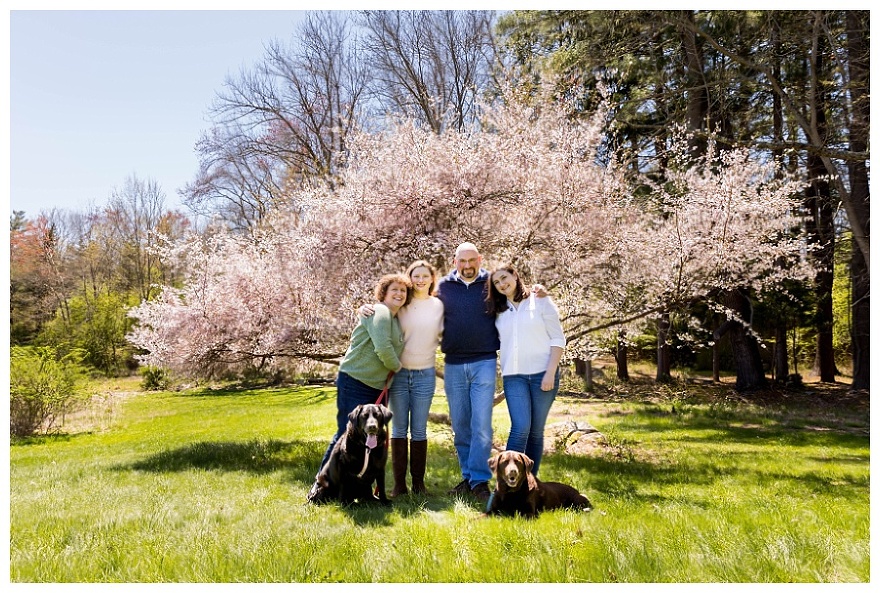 Family Portraits with the Woods Family at the Borderland State Park
For me, nothing compares to the smiles and laughter that I get from my models during a family session. Whether they include toddlers or teenagers, the joy of photographing families is incomparable. From the welcoming family warmth to their eagerness to give me their best angles and poses, everything that happens during a family session is incredibly authentic, genuine, and fun. Even though I have to guide my models through their portraits sometimes, every moment still feels so natural. And as a photographer, I thrive in these environments. 
I met with the Woods family on a fabulous afternoon at Borderland State Park. Early May can be so unpredictable with the weather, but this could not have been a more perfect day. Rayanne, Tim, Emily, Mary, and their two furry family members were so full of positivity and energy. And when it comes to photographing people like them, a family session hardly feels like a work day.
With a historic mansion, lush greenery, and breathtaking views, Borderland State Park was a fantastic location for an outdoor shoot. We were surrounded by nature, and the photos simply came out looking gorgeous! A special shout-out to the Woods family for such a wonderful session. I had a great time with you guys, and I hope you love the photos as much as I do!
Family Portraits with the Woods at the Borderland State Park
I make an extra effort to help my models get comfortable with the camera, but with the Woods, it was like they came prepared. We started the session next to the mansion getting everybody warmed up and moving. I love it when families just jump right in, and the Woods were no exception. They walked, they squished together, they swayed, and the laughter and fun are all there in the photos. In the end, for me, family sessions are all about documenting those real moments they share as a family. As much as I love posing my models, I also like to photograph them in their element, just having fun together. Their beautiful dogs also joined us, and of course, they were complete naturals too! 
Next, we moved to a gorgeous blooming cherry tree and I used that as a majestic backdrop. I also got some adorable couple portraits of Rayanne and Tim here. Trust me, when photographing outdoors, use nature to your advantage! Our third spot for the session was the historic swimming pool behind the mansion. It created such a lovely backdrop for the individual portraits. The greens and the stone reminded me a little of Ireland, which is where Mary will be attending college, so it was like a perfect going away present for her. I also captured the sisterhood between Mary and Emily with some super sweet photos of the girls together. We finished the session with some close-ups of the whole family and a fabulous portrait of the two dogs.
Book Your Session With Pardo Photo 
Even though I photograph engagements and weddings, too, I always look forward to family sessions! There's just something about becoming a part of the family as you take their photos. In the end, it's all about love! A huge thank you to the Woods for letting me take their family portraits and being such great models. 
If you have any questions, you can contact us on 617-596-9337. If you are planning a proposal, an engagement, or a wedding, feel free to drop me a mail, and we can discuss how to get you the best photography experience. I also do senior portraits, pet photography, and mitzvahs. To check out more of my work, head to my Instagram, Facebook, or website.