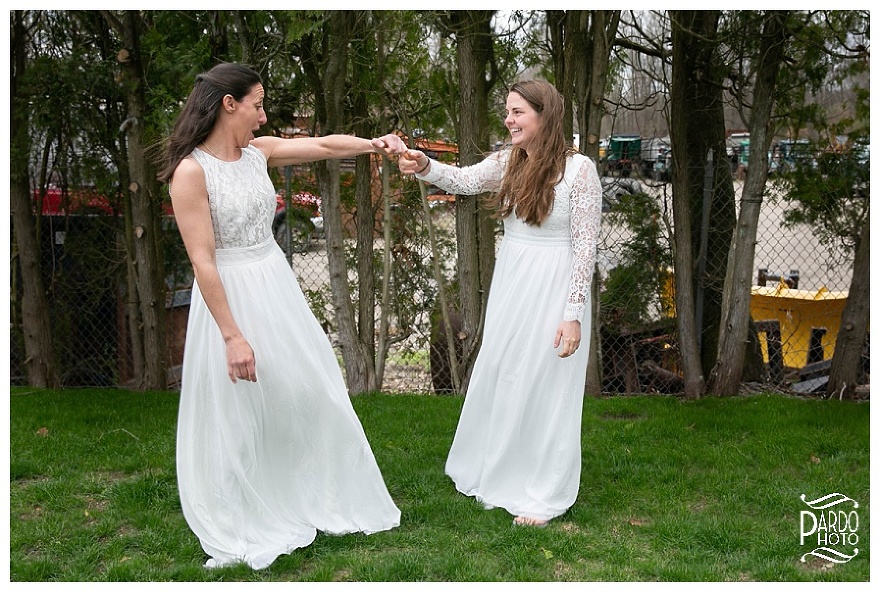 It was a chilly Wednesday afternoon when I ventured over to Meg and Nicki's house in Norton to photograph their backyard wedding. It was simple yet elegant and beautifully planned.
In these difficult times of COVID-19, most of the couples are waiting for this phase to get over and tie the knot thereafter. But, nothing could stop Meg and Nicki from getting married and becoming one. They planned everything so well in their beautiful backyard, keeping all precautions and social distancing in mind.
Love And Togetherness
Meg and Nicki, are both police officers and met at work. One day, after work they grabbed a casual beer together and this turned into several hours of conversation. It was this time when they realized that they were made for each other. After this, they started spending much more time together. One day after dinner out with family, when they came back home and were seated on the couch listening to music, Nicki proposed to Meg in their living room.
Meg loves Nicki's smile and Nicki loves the way Meg looks at her and makes her feel like the most important person in the room. They both love to play and go for walks with their dog Zoe. They like doing yard work and spending the rest of their free time snuggled on the couch together.
Backyard Wedding Photography
When I arrived, the dresses were hanging, the rings were in a custom monogrammed dish and the spirits were high. No virus was going to keep Meg and Nicki from tying the knot! After I photographed the details, Meg and Nicki put on their dresses and we prepared for their first look. This was my favorite moment of the day! The look on both of their faces made my heart sing. I can't tell you how happy it makes me to see Meg so happy after knowing her for most of her life. Thank you Nicki for putting such a wonderful smile on her face! Next we took some formal portraits and soon the time came for the ceremony.
The guests took their seats all appropriately spaced to maintain social distance and the ceremony began. The officiant was Meg's brother which made everything so much more personal. After exchanging rings and a kiss Meg and Nicki became Mrs. and Mrs. The next few hours were spent in a good company celebrating the brand new couple.
Nicki and Meg told me how they would have loved to plan a surprise for their families at their wedding but it was difficult due to COVID-19 lockdown. The most they could do to surprise them was informing their families of their upcoming nuptials only seven days in advance.
Congratulations Nicki and Meg! I am so happy to have been there to photograph your romantic backyard wedding. I would not have expected anything else! Big hugs to you both and happy love!