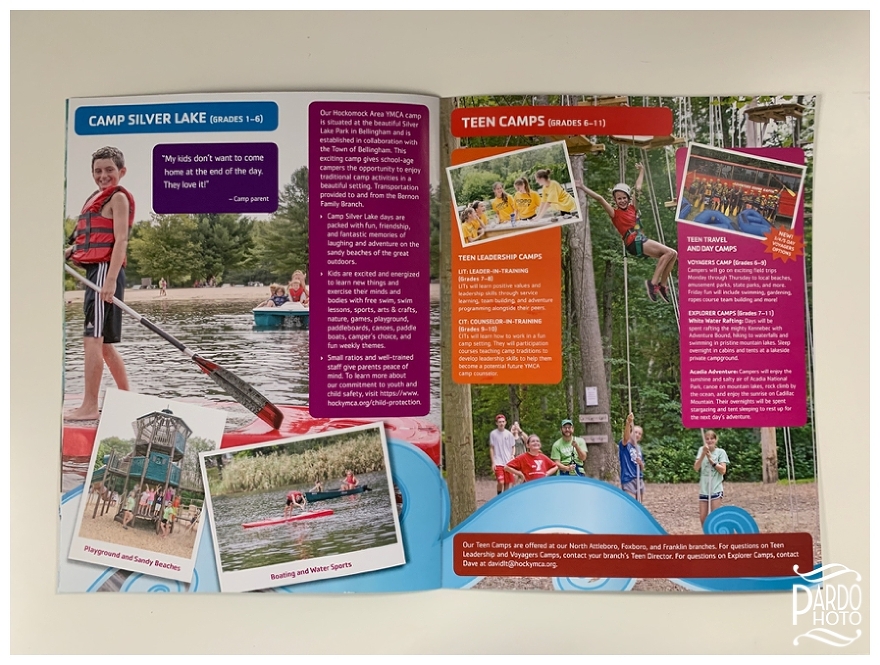 Come summer, it's time for school vacations to begin and I'm always excited for the work it brings to  Pardo Photo. Kids love to spend their vacation time in summer camps for all the fun they have to offer. And not only that, but the fun new ways to continue learning while school's out!. So when it comes to fun and learning, Hockomock YMCA in North Attleborough, MA is the place to be!
The Hockomock YMCA Summer Camp Brochure
For the past five summers I have been photographing the exuberance that is at Hockomock YMCA's summer camp (website). From Foxboro to Franklin to North Attleborough, the programs are always filled with huge numbers of kids that are having their best summer ever!
Who has a better job than I do? I get to photograph kids blowing bubbles, climbing trees, swimming and splashing, creating interesting projects in stem classes, playing sports and having the time of their lives!
The Hockomock YMCA summer camp ranges from family nights to open houses at lakeside. There are different groups for kids with age-appropriate activities planned for them. They not only make full use of their energy but also grow their brains with lots of fun games to inspire learning. 
And most importantly, let's not forget the strong bond of friendship that children develop here and it's always great to photograph these moments.
Does your kid love sports? They'll feel right at home. Do they love to swim? There is an incredible pool. Gymnastics? Yes!!! From indoor games to lots of outdoor activities, this summer camp lags nowhere. Tree climbing, water sports, boating — your child learns all of this here. 
I always manage to jump in on the fun, too. These natural pictures at the Hockomock YMCA are the best one can get. Capturing the laughing, rolling, jumping kids on my camera is pure gold. 
The photos I take are used in the camp brochure, and I'm always excited to see which photos make the cut! So enjoy these photos from the new Hockomock YMCA camp brochure for 2020!