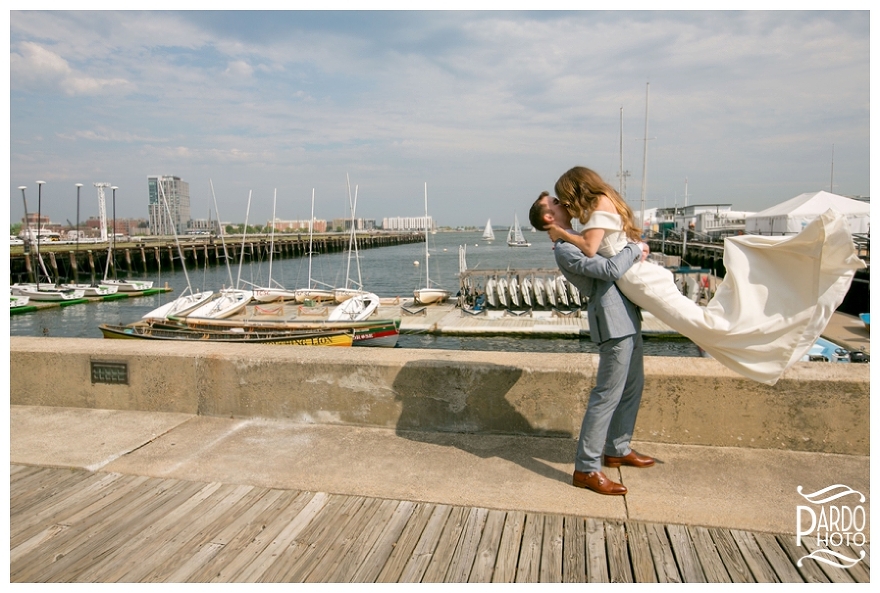 Hannah and AJ were married this summer with a reception at Pier 4, and I was especially excited for them because I know AJ from Thayer Academy and consider these two friends. I even photographed their proposal a year and a half ago.
They actually met at Thayer, where they were both on the ski team. Hannah was racing varsity, and AJ was on JV, but his time beat hers. He reached out to her at BC during her freshman year to talk about picking a major and such—but just like at Thayer, there wasn't much follow up. In fact, they didn't start hanging out until AJ started announcing the field hockey games, and then, they finally went out on a a date.
Hannah had always joked that she would know when AJ was going to propose because one of her friends would take her to get her nails done. But somehow, even when her mother took her out to get her nails done, she didn't suspect anything when the time came. AJ told Hannah that he wanted to go to Newton to get a new camera, and again, she didn't suspect anything. He'd been talking about a new camera for a while. But then, when they drove up to the field hockey field, she started to get excited! AJ had asked her dad if he could propose before her dad passed away, too, and that meant so much to her.
AJ says that he knew he had to propose after they spent a Christmas Eve apart. He woke up in early January and decided he couldn't stand to spend any more time away from her. Now, they're exploring Atlanta together, trying new recipes, sampling new restaurants—and having a blast!
Hannah and AJ's Pier 4 Wedding
I was personally excited to see the two of them marry because I've known AJ since he was a 15 year old photo student of mine, so getting to record one of the most momentous days of his life was such a treat! And despite the record-setting heat, this was one of the most glorious wedding days I have ever witnessed!
I started out the day with Hannah and her bridesmaids at her mom's house in Charlestown. Everyone was so calm, cool, and collected when I arrived, and they were decked out in matching pajamas, with Hannah in her super cute bride's robe. I also had the privilege of meeting Hannah's 10 day old niece as well—what a cute little button! Extra kudos go to Erin, Hannah's sister, for participating fully in the day, even though she had given birth just 10 days before!
After the bridesmaids enjoyed a glass of champagne and a few celebratory moments, everyone went to get dressed. Hannah's mom helped her into her dress—which was when it finally sank it… Hannah was getting married!
We took some formal portraits of Hannah looking stunning in her dress and then hopped on the trolley and headed over to the church. The whole time, my second photographer, Paige, stayed with AJ and his groomsmen at AJ and Hannah's old apartment—but they beat us to the church!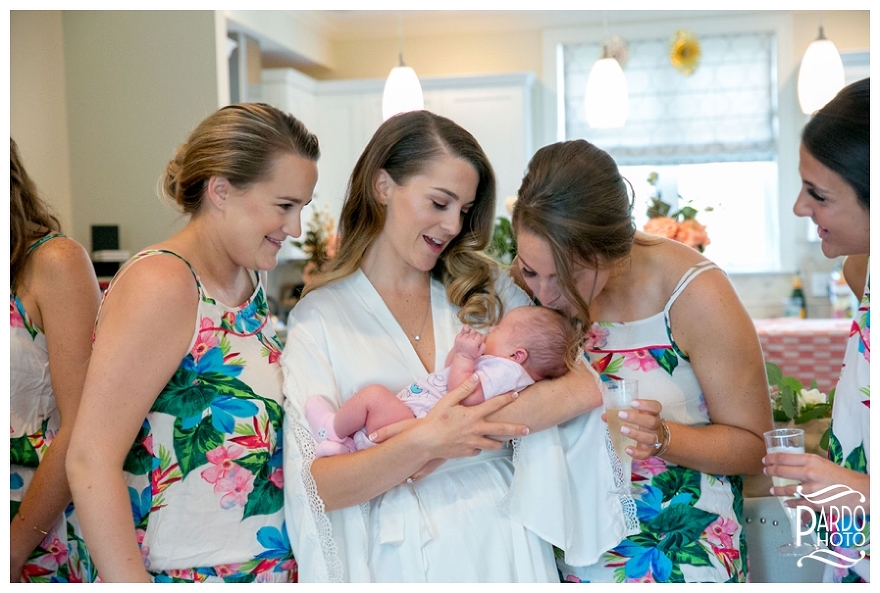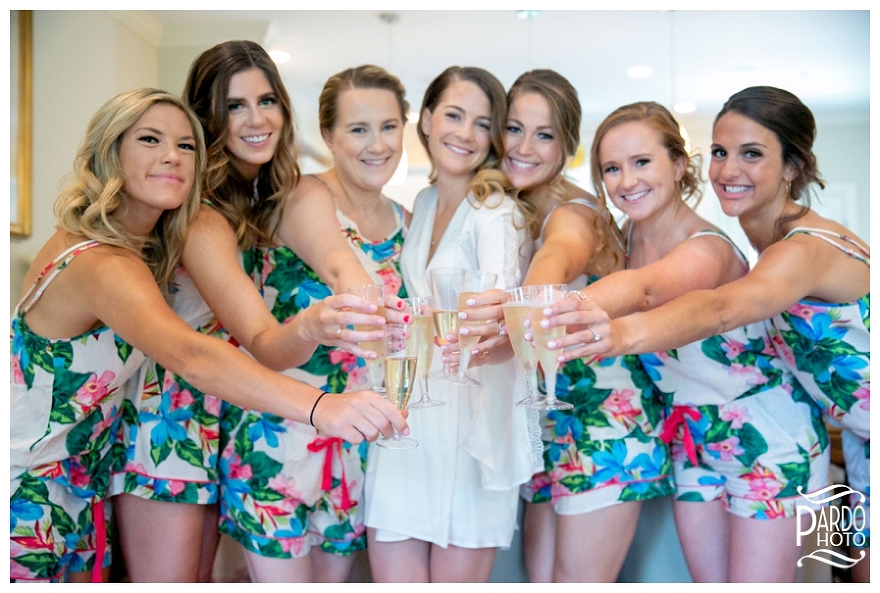 The ceremony was filled with plenty of laughter and a few tears, and I was touched by how many of their vendors were chosen specifically for their personal relationship with Hannah and AJ. The ceremony was performed by AJ's priest from Boston College, and the little touches like that made the day all the more special.



















Soon enough, it was time to head over to the pier for the festivities. The bridal party and immediate family hopped on the trolley and enjoyed a raucous ride before we dove right into the portrait session. I was so impressed at how efficiently the groups came together and had fun taking pictures together!






Next, we took Hannah and AJ for a little walk and some couple portraits. No photo session with me is complete without some sort of playful dynamic move, and we made sure to get them dancing as well as walking around. We had so much fun and even got a shot where it looks like Hannah is flying!




Once we headed back to the pier, we completed our photo list by getting group pictures from Boston College and Thayer Academy. It was such a treat to reconnect with so many of my old students from Thayer Academy.




AJ and Hannah enjoyed a wonderful first dance, and the whole atmosphere of the reception was filled with love and appreciation. Every time I saw Hannah and AJ greet someone, it was with that same true gratitude. Whether it was the toasts, the way Hannah's mom welcomed the guests, or the simple interactions between people, that love was ever-present.



































Boston Wedding Fireworks
There was one more special surprise in store for Hannah and AJ at the end of the night. Boston was holding a night of fireworks—and all the guests enjoyed a spectacular show. Is there any more fitting cap to a party than to dance the night away under fireworks?



AJ and Hannah, I have been looking forward to this day ever since I photographed your proposal. It was such a pleasure and honor to spend the day recording these moments for two people who are so clearly meant for each other. It warms my heart to see my Thayer students succeed in life. AJ and Hannah, big hugs and congratulations to you both!
This wedding was a collaboration of an incredible group of vendors who are listed below.
Venue: Pier 4, Courageous Sailing
Charlestown Navy Yard, Boston, MA 02129
Band/DJ: Clique, Wilson Stevens Productions
Contact: Alexandra Hernandez
alexandra@groovinyouentertainment.com
(203) 803-1789
Day of Coordinator: Jyl Deering, Chancey Charm Weddings
774-243-2940
Insta: jyl189
Caterer: Chef's Table
Makayla Reynolds
makayla@thechefstableonline.com
781-826-3320
Insta: thechefstable
Cake: Ashley Milley
978.490.4921
Insta: byajcakes
Florist: Junebug Charlestown
Insta @junebugcharlestown
Dress: BHLDN (anthropologie wedding line)
Insta: bhldn
Hair: Brianna Kachadoorian