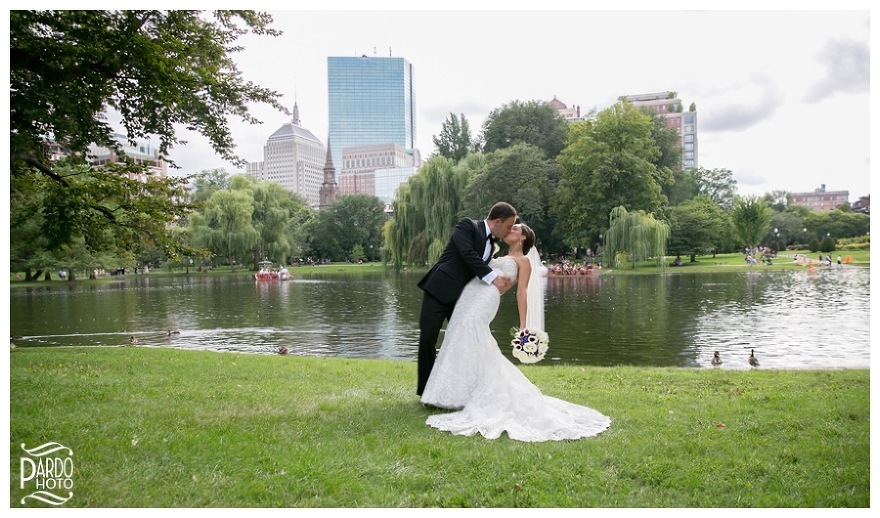 Elyse and Mike were married on August 22nd at the Fairmont Copley Plaza in Boston, MA.
I met Elyse many years ago when she was a high school student at Thayer Academy. I ran into her again at her cousin Lizzie's wedding a few years ago.  And so the tradition continues… I love photographing Thayer alumni weddings! There were so many guests at this wedding that I knew because they had been students of mine, and it was such a pleasure to reconnect.
I knew this couple was going to be so much fun to photograph, because when I asked them what they loved most about each other, their answers were about fun and laughter:
I love how he closes his eyes when he laughs really hard. It's hard not to laugh too. –Elyse
I love her laugh and how her nose sort of curls up when she laughs really hard. But the "ONE" thing is when she says something corny, she looks at me out of the corner of her eye and smiles. I always kiss her when she does that. –Mike
I started the day out with Mike and the groomsmen at Elyse and Mike's apartment in downtown Boston. When I arrived, nobody was dressed, and the guys were all hanging out watching a movie. Thank goodness I arrived a few minutes early. I encourage them to go and get dressed, and all of a sudden, a frenzy of activity ensued. Mike was dressed first and showed me the details that Elyse had bought for him. She had given him cufflinks with a picture of a Boston terrier on them, in honor of their dog, Rocky. She had also given him a photo of Rocky wearing a tuxedo, which he showed me shortly after I arrived at the apartment. Elyse and Mike absolutely love their dog!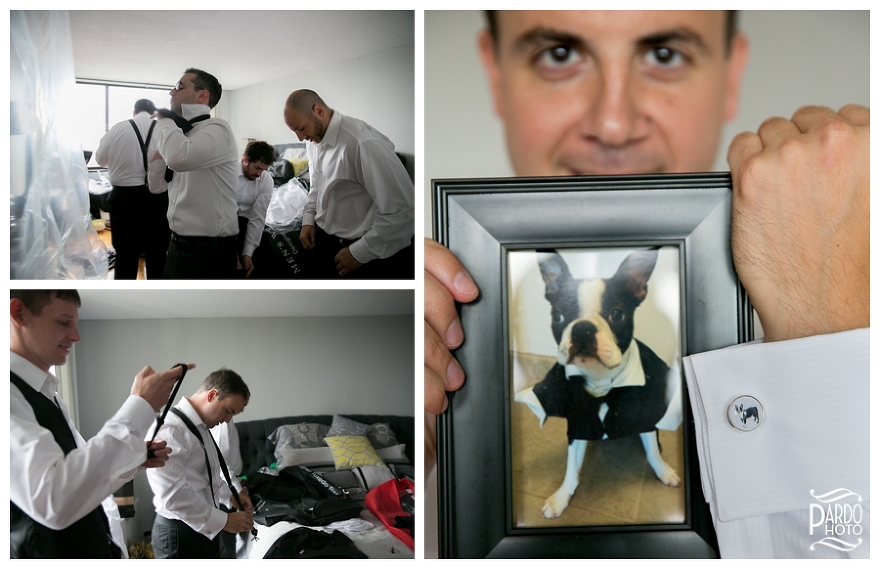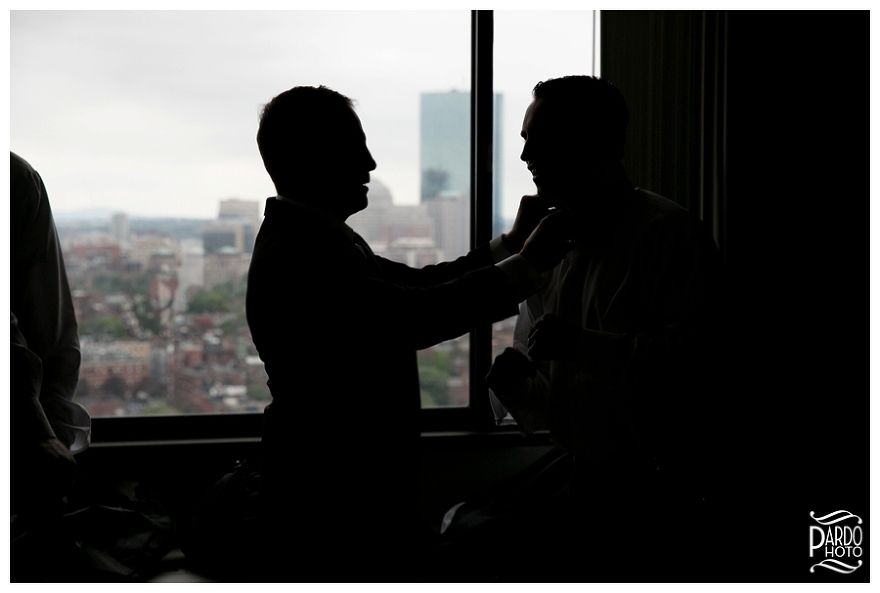 All the guys broke out their tuxedos and got dressed in the bedroom in the apartment. It was packed! There were bowties everywhere while everyone tried to put on their cufflinks and vests. I love the images with Boston in the background and the silhouettes of the men getting dressed. Everyone was in great spirits, and soon, they were ready to head out to the trolley. I took some photos just outside the apartment and then jumped in the car to head over to meet Elyse and the women.



As soon as I arrived at the Fairmont Copley, I met with Tamara from Corinthian Events. She was the daytime coordinator, and it was a fantastic addition to this wedding. She took me up to the room, and I started photographing the details. The flowers were gorgeous, and Elyse's jewelry and shoes were all ready to be photographed. I love the little Tiffany boxes that the rings came in with the cute drawings.





After I photographed the dress and the details, it was time for Elyse to put on her gown. We set her up in the beautiful light, and I photographed her mom, her future mother-in-law, and her maid of honor as they helped her into her dress. Oh my goodness—she was stunning!



Soon, it was time to head out to the ceremony. We walked downstairs to meet the rest of the bridesmaids and headed out on the trolley over to Saint Cecilia Parish. The priest was so welcoming and genuine that even though the church was ornate and grand, it felt like home. He knew Elyse and Mike well, and the sermon was heartfelt and personal.











Immediately after the ceremony, I whisked the new couple off for some moments alone. Elyse and Mike were so happy and so excited to be married—showing each other their rings, exclaiming how great everything was, laughing together, whispering together… for me – they were the epitome of a couple in love!




Next, we headed out with the wedding party to the Boston Public Garden. We walked over to the side of the pond with the John Hancock Tower in the background. This just felt right because it is also the view that Mike and Elyse see from their apartment, so it felt very personal to them. We did some portraits of Elyse and Mike alone and then bridal party portraits. Soon, we ventured over to another side of the pond, took some more portraits, and headed back to the trolley.





Just before we left, I had Mike and Elyse kiss dramatically in a dip in front of the trolley, which is one of my favorite images from the day.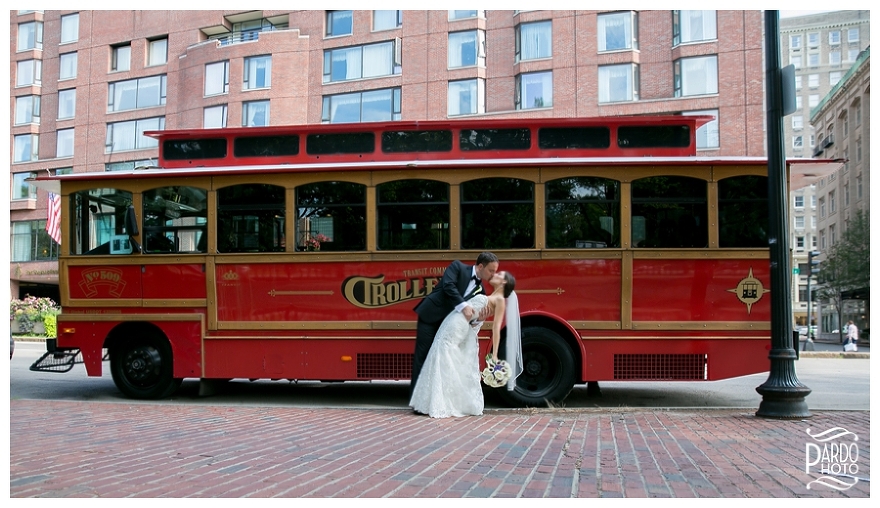 Next we took formals just outside the Fairmont, and then Elyse, Mike, and I walked over to the public library to photograph a few more. I love the pictures of Elyse and Mike crossing the street with the crosswalk and the library in the background as well as the photos of them in front of the public library with the flags flying. It was just such a perfect setting and a perfect day!





Soon, it was time to head inside to the cocktail party. I went in ahead of the guests and photographed the escort card table, which had a Boston T theme. I also photographed the room and details before the guests entered. The cake set up on the balcony at the end of the room made for a stunning photograph.






The couple enjoyed their first dance to Nora Jones' "Come Away With Me," which is one of my favorite songs. Next, Mike's best man, Joe, gave a fantastic toast, followed by Elyse's maid of honor, Liz. Soon Elyse's dad also said a few words, and then it was time for parent dances. The rest of the evening was filled with dancing and fun!













Elyse and Mike, thank you so much for choosing me to photograph your big day! It was absolute perfection, and I wish you both happiness and love always!
Vendors:
Photography: Nicki Pardo for  Pardo Photo
Venue: The Fairmont Copley Plaza Boston
Caterer: The Fairmont Copley Plaza Boston
Cake: Cakes to Remember
Florist: Evans Flowers
Gown: Marry & Tux