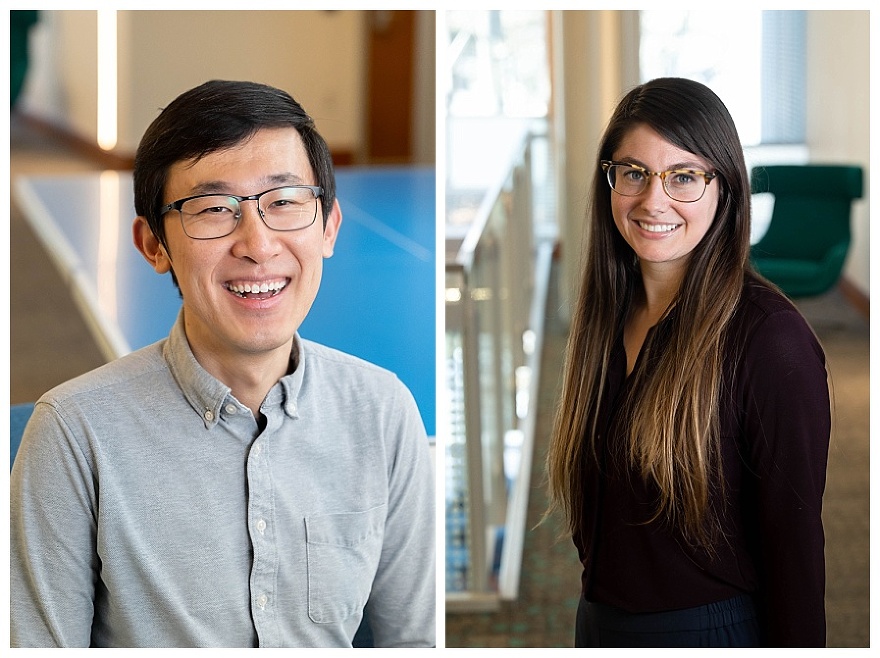 Corporate photography is unique in its emphasis on branding, messaging, people, and visual storytelling. For me, working as a professional corporate portrait photographer has always been about understanding a company's visual identity to create images that align with that identity. I understand the importance of focusing on people and applying my photography skills to bring out their best. Capturing corporate headshots for KSQ Therapeutics gave me the perfect opportunity to be able to capture natural, candid moments that convey a sense of professionalism and approachability. 
Corporate Headshots Photography At KSQ Therapeutics
Each season offers its unique beauty, but the colder months are a great time for indoor corporate headshot photography. The low light and chillier temperatures can help create a cozy atmosphere for indoor sessions, which can be especially useful for capturing the personalities of the employees being photographed. Recently I had the great fortune to photograph the amazing scientists and innovators of KSQ Therapeutics at their new building in Lexington. 
It was a wonderful experience photographing employees' corporate headshots at KSQ Therapeutics. Everyone was so energetic and full of joy! Not only was their true enthusiasm for science and innovation inspiring to witness, but capturing that passion through my lens was an experience I'll always remember. I also loved the freedom I had to switch up the backdrop while keeping the lighting consistent. It allowed me to create an eye-catching set of images that still fit within the company's branding. That way, each headshot looks like it belongs in the series, but no two are exactly alike! Being able to change up backdrops gives every portrait its own unique feeling but still having the same light set-up and expectations in place, allows all the portraits to look wonderful together too, without it having that cookie-cutter feeling of an identical backdrop.
I love taking pictures of professionals in a way that is both creative and purposeful. Understanding the needs of different businesses, I always customize the shoots to make sure that each portrait is best suited for its purpose and will have the desired effect they were looking for. I looked forward to photographing corporate headshots for KSQ Therapeutics where I got to use my expertise in making the sessions quick, effortless, and delightful. It was such a joy capturing the corporate headshots of their participants. Everything seemed easier and more rewarding with their seamless cooperation throughout and amazing end results that made everyone's smile even brighter.
Get Professional Portraits With Pardo Photo
Corporate headshots are much more than having another picture for company websites, social media, brochures, and other marketing materials – it's about creating a beautiful reminder of all the creativity and hard work happening within your business. And I'm so thankful to KSQ Therapeutics for giving me the opportunity to photograph their corporate headshots. Corporate portrait photography is such an exciting thing to do, and I truly enjoy capturing these moments and creating striking images that help my clients grow their businesses and take their careers to the next level. 
With over twenty-plus years of experience in professional photography, I photograph weddings, senior portraits, corporate headshots, pet photography, and mitzvahs. If you have any questions, you can send me an email, or contact me here and we can discuss how to get you the best photography experience. To check out more of my work, you can visit my website or head to my Instagram, Facebook, or Pinterest.