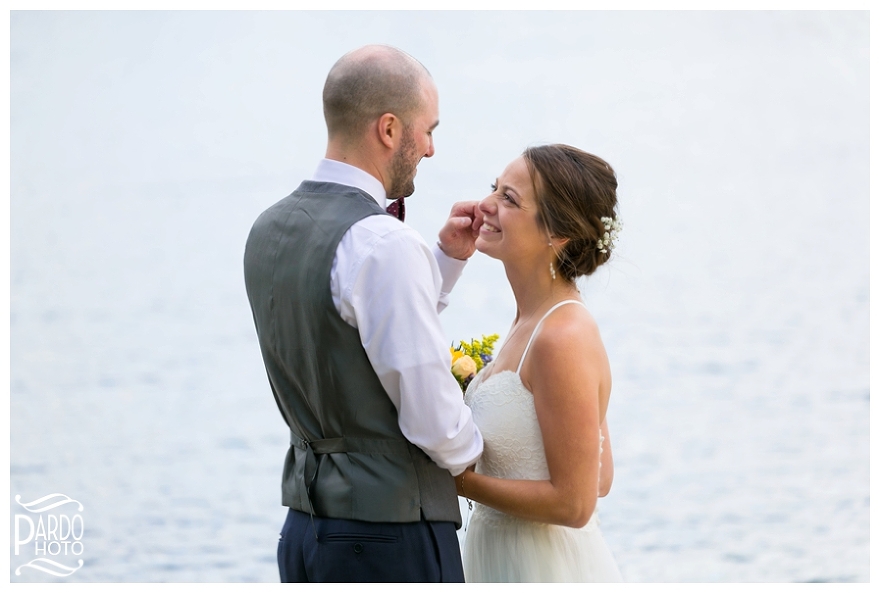 Jane and Chris were married at the Ted Williams Park in Lakeville, Massachusetts. I first met Jane when she was a photo student in my class at Thayer Academy, many years ago. She was a creative, optimistic, spirited girl and I am happy to say, she has grown into an equally positive and wonderful young woman. I was honored when she and Chris asked me to photograph their wedding. Jane and Chris planned their whole day as a celebration of marriage and family.
Creating a union, expanding a family, and continuing a glorious partnership — that's what their wedding was about.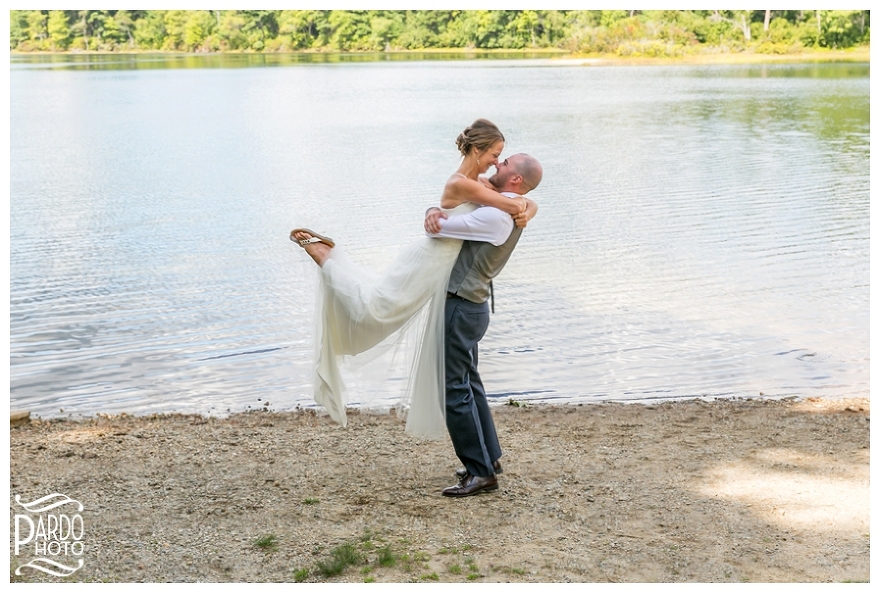 Chris and Jane have such a beautiful love story. When asked when she knew Chris was "the one," Jane said:
It was pretty early on. Our friend had introduced us and let us know she thought we were "perfect" for each other, and it truly was pretty perfect right away. Unfortunately, I moved to Guatemala for 2 months shortly after we met. As I was preparing to leave the country, I kept trying to check people off my "Say-Goodbye-To List" but every time I tried to say goodbye to Christopher, it was never enough and I'd see him the next day until the last day before I left. It was hard, and I remember both of us lingering and looking at each other with some unspoken heartache on the sidewalk outside his Dorchester apartment. But off I went with some happy memories and some hope in my heart of this guy I had only just begun to know.  
He emailed me every day while I was away, and his words made me smile, laugh, and light up inside… so much so that I came home early.
Not long after our reunion, we were having a silly conversation about something or other and I let slip, "I'll love you either way!" I was mortified that I had just dropped the "L" word so soon and so accidentally, but after my initial super-panic I realized I truly did love him and would love him no matter what… so I told him that! 
I think that was perhaps the first moment, but there have been more than million since then.
Chris, when posed with the same question, responded:
I don't remember the exact details of the day/moment, but I think it was a pretty ordinary day for us. We had probably spent it together laughing, making a nice dinner and joking around with each other. I remember saying to Jane "I'm going to marry you some day." I said it so out of the blue that I think she blushed at the idea but I don't think she really took me seriously… but I was!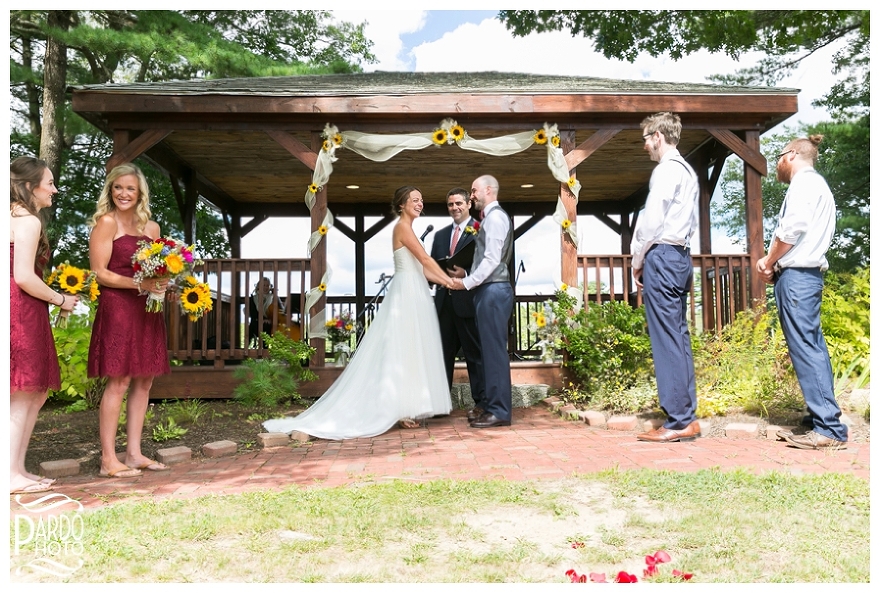 On the day of their wedding, I arrived a few minutes early to choose the location for the family photos. Once I had that set up, I went off in search of Chris and wandered a bit, photographing as guests arrived. I opened the door to Jane's bridal suite, which happened to be an RV (awesome!) and found Jane and Chris sharing a moment before the wedding. This was not planned and I was fortunate to stumble upon it and photograph it. In the process I started crying right alongside the two of them. That was quite a scene: the photographer crying with her couple. I just couldn't help myself! The moment was so profound and stumbling upon it by chance made it even more so.




I gathered myself and headed outside to get set up for the ceremony. The officiant was Jane's brother Mike, and everything he said during the service was personal and poignant. The song performed was especially written for Chris and Jane. By the end of the tune, Jane was serenading her man at the front of the altar. The ceremony was filled with laughter, tears, joy, and above all, love.
























Immediately following the ceremony, I took Jane and Chris aside so they could share a few moments to let the gravity of the day sink in. I stepped back and let the couples do what comes naturally. None of these images are posed which makes them that much better. They were just so excited to be married!






I asked these two lovebirds what ONE thing about their partner makes their heart sing:
Jane answered: "I'll go with when he laughs. I love when he laughs at a joke I make or at a joke he tries to make or when he laughs at absolutely anything. I love the genuine joy and lightness he exudes when he laughs. He laughs and my heart sings… what a perfectly cheesy duet!"
And Chris replied: "Her smile when she is just content to be where she is and who she is with. There usually isn't anything extraordinary going on, she's just happy. And that makes me happy."
After spending a few minutes doing some couple portraits, we headed over for the family photos. After family photos it was time for the celebration to be again! Everyone enjoyed a country style barbecue under the tent and then danced the afternoon away to the sweet sounds of the The Van Burens.



















































Jane and Chris, I am so thankful I was able to share in your day. These are some of the most heartfelt images I have ever recorded. Thank you so much for being who you are! Happy love! -Nicki