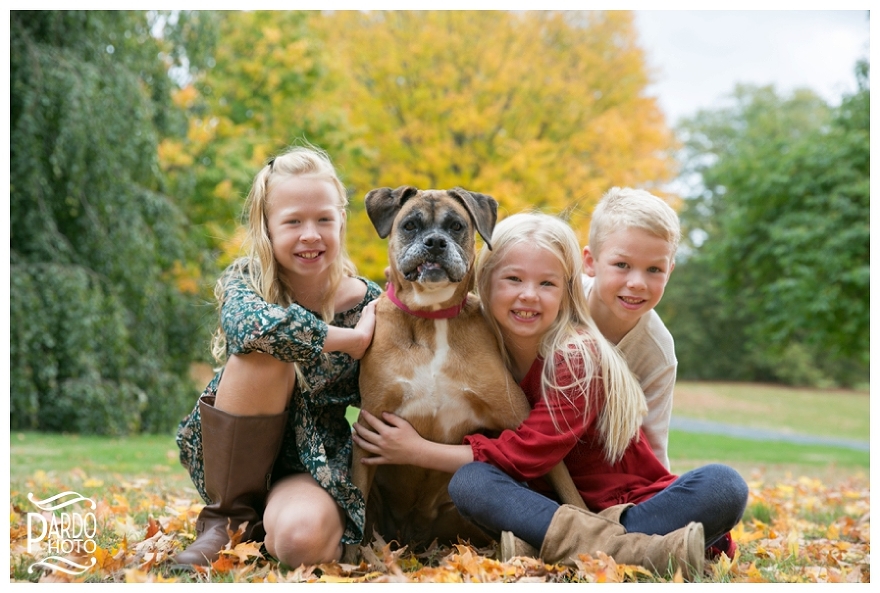 Last weekend, I held the first installment of the 10-minute family photo sessions, and again, they were a great success!
I love the format of these sessions, because they give me just enough time to get a fantastic family photo before I play with the kids by having them run and throw leaves and get in a few fun portraits. With the holidays coming up, I've found that this is the perfect setup for holiday cards—with a great family shot for the front of the card and options for the back if they want individual portraits of the kids and the pets.
For the first day of sessions, I was at the Governor Oliver Ames Estate in Easton—a fantastic park for family sessions! There was a gorgeous, yellow-leafed tree and a great climbing tree within walking distance of the pond. Even after the sessions were over, several families stayed to take a walk around the park and enjoy the scenery. It was a day filled with dogs and toddlers, and every family happened to be a repeat client that day. What a joy it is seeing these kids grow up year after year and being able to record it for their parents!
The second day of sessions was held at Chilson Beach in Franklin, Massachusetts. This is a new location for me, but it turned out to be fantastic! The day was gorgeous, the water bright blue, and the sand warm. The grass growing near the pond also made for a fantastic background, as did the dock—what a perfect place for jumping photos! I loved the photos of the families walking with the shadows cast in front of them.
I can't wait to meet with all of the families scheduled for this weekend and next! There are a few sessions still available for this Saturday, October 22, and then another day of sessions will be added on November 5. Click on the link below to sign up!
I hope to see you through my camera lens soon!