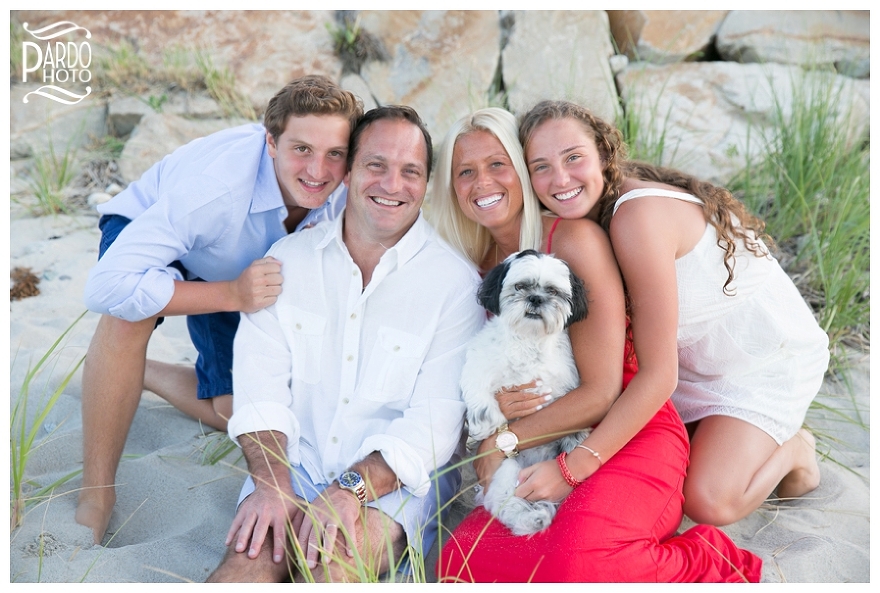 It was a perfectly sunny day when I met with the Marciano Family at Whitehorse Beach in Plymouth for a late afternoon family session—and we had the beach all to ourselves!
At the beginning of the session, I explained to the Marcianos that I love to start out by walking and moving around a lot because I love working out and need to warm up. During that time, they were free to do whatever they wanted while they just got used to me pointing the camera at them. They were definitely a playful group anyway, so I had the kids running around a lot and playing together.
After that, we took some photos by the seagrass until the light was perfect to head for the shoreline. The whole family was walking together hand-in-hand and then came together for a hug in a beautiful, spontaneous moment! Next, I split them into groups to walk along the shoreline, and I particularly loved the image of father and son walking along together.
I also did individual portraits of the children, including Louis the dog. By the end of the session, I got an image of them standing with their backs toward me, and Louis came running right at the camera. It took a little while, but I knew I would get him to love me!
As I drove home from the session that night, I was overcome with a feeling of gratefulness. It's incredible to me that I get to spend late afternoon on the beach with fantastic people in an absolutely gorgeous setting as part of my job! Really, who's got it better than me!?
Thank you so much, Jen, Steve, Olivia, Nick, and Louis, for a fantastic session. Your enthusiasm and energy made it one of my favorites from the whole summer!