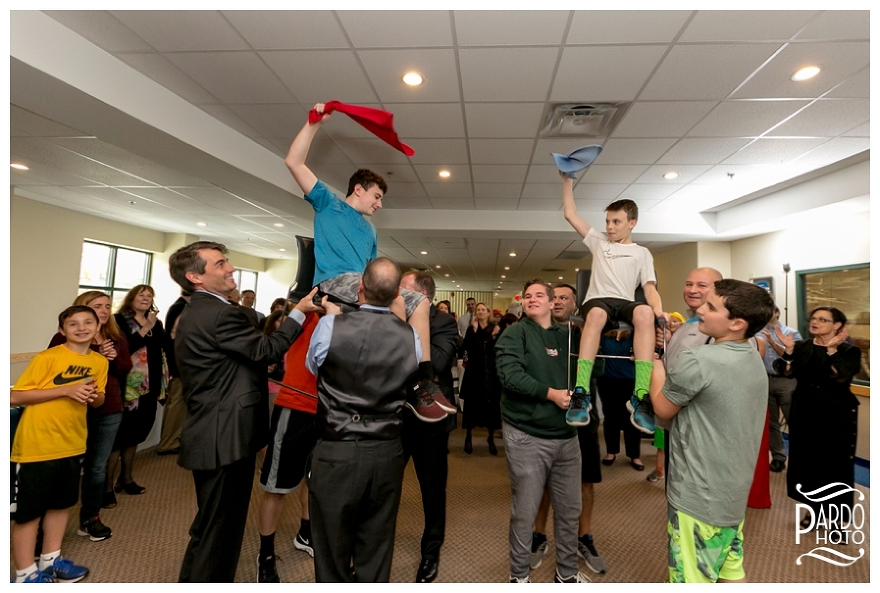 Jaxon and Dante celebrated their bar mitzvah at Temple Chayai Shalom, with a party afterward at the ForeKicks in Taunton.
The day started at Temple Chayai Shalom in Easton, where friends and family arrived to be photographed ahead of the service. I was amazed by the efficiency and organization on display, even in such a large group! Any photographer can tell you that it's sometimes hard to get everyone in place and ready when you have huge groups, but this family knew what they were doing and came prepared! We knocked the family photos out before we knew it, which left plenty of time to enjoy the services and the following celebration.
A Fun Bar Mitzvah Celebration at ForeKicks
This was the first bar mitzvah party that I have ever photographed at ForeKicks, and let me tell you: it was one to remember. We had a delicious lunch and danced the hora, but there was also some competitive dodgeball and laser tag. What a perfect way to celebrate a big day for two 13 year old boys! After my experience here, I'd definitely recommend it for other family—it's exactly the kind of fun you want for your kids to celebrate the way they like to party!  I loved how much fun the boys had. It was such a wonderful way to celebrate them.
Spivak family, thank you for trusting me to record this momentous occasion in your family history. I applaud your originality as well as the joy and fun that you poured into this big day. Mazel Tov!