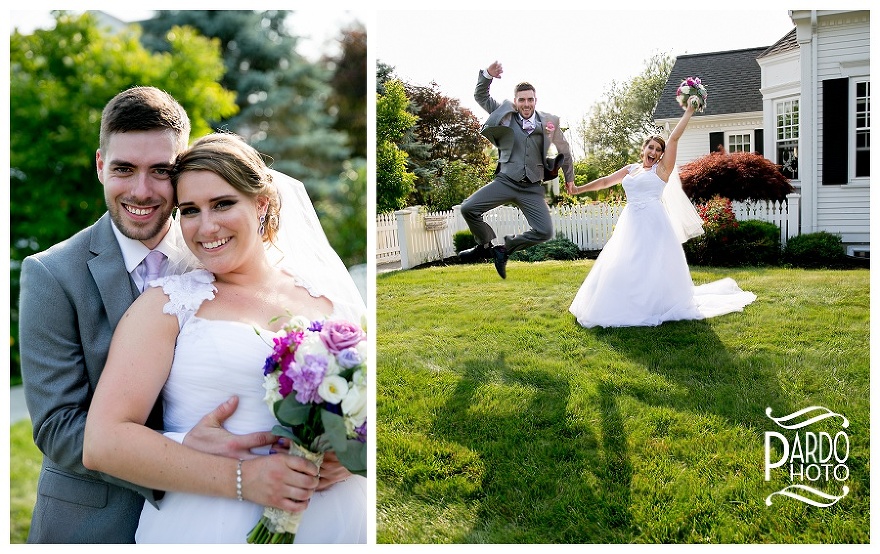 Connor and Ari were definitely one of the most fun and quirky couples I have ever met! These two had all sorts of hilarious and personal touches throughout their wedding, and it was a day to celebrate their love for each other as well as their love for family, friends . . . and good movies.
When I arrived to start the day with Connor and his groomsmen at the Clarion Hotel, they were already dressed and excited! Connor had given them all "the most practical impractical gift he could image" for their groomsmen gifts—monogrammed hatchets! I have never seen anything so original and yet so perfect for this group of crazy men.
We began the formals with Connor and three of the groomsmen baring their superhero shirts beneath their suits. The four of them have continued this tradition with each other, with the groom in the front and his superheroes behind him, because they have his back. It was a great picture to start the day, and I knew after that it was going to be fantastic!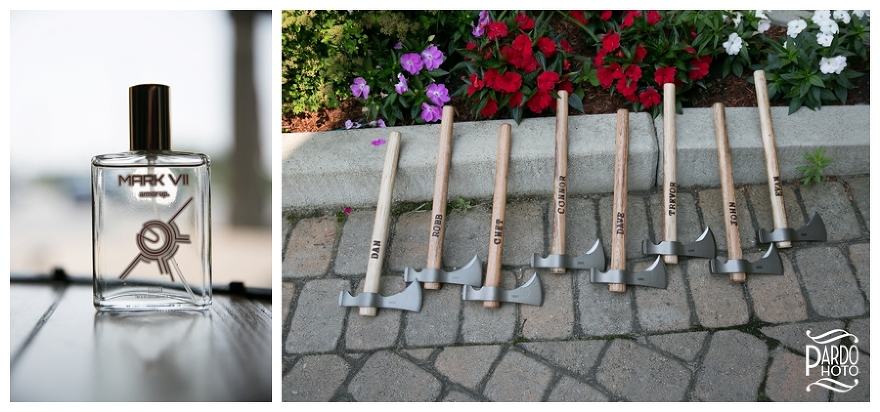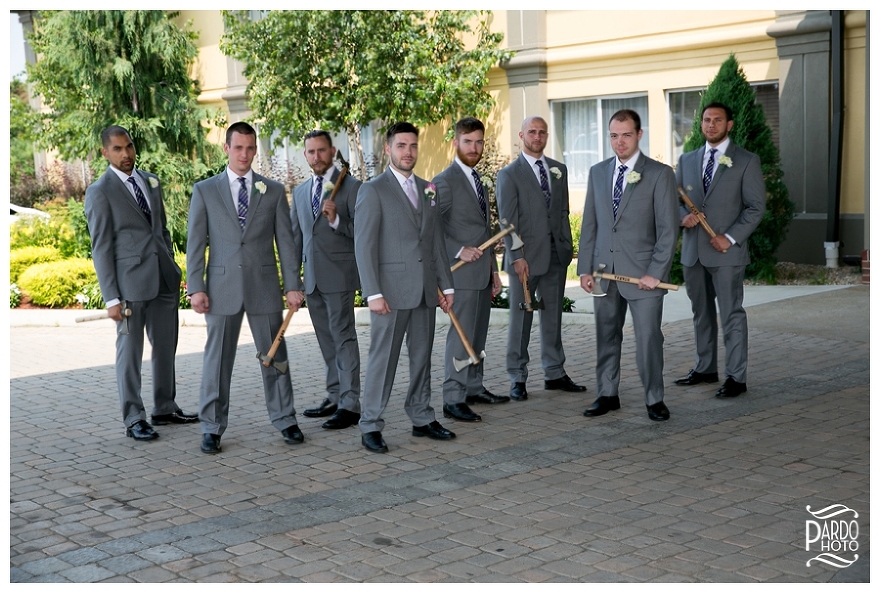 After that, I made my way to the Five Bridge Inn to meet Ari and her bridesmaids. The dresses were hung and ready to be photographed, and the jewelry and shoes were all laid out as well! We got some "before" shots of everyone in their robes and then took pictures as everyone got dressed and Ari put on her gown. I love the photos of Ari's sister and mom helping her into the dress and then looking out the window at the ceremony site. Ari looked absolutely stunning in that dress, and you can see from the bridesmaids' expressions that they knew it, too!






We went downstairs, where I met up with Diana Pozzi, my second photographer. We took some shots with family before it was time for the ceremony!




The ceremony itself was very touching. Ari and Connor's youth pastor knew the couple very well, since they both met in that church youth group, and it was wonderful to hear him talk about them. The ceremony was beautiful, with butterflies fluttering about, and when Ari and Connor kissed, they exited the ceremony to a violin playing none other than the Star Wars theme!

Just look at his face as he first saw Ari coming down the aisle. What a moment!








Ari, Connor, and I stole away upstairs for a few moments alone so that they could just be a newlywed couple together for a bit. The love on their faces filled the room! I particularly liked the picture shot through the doorway of the two of them.


We went downstairs to do some family "formals" and wedding party "formals." This group was so much fun to photograph and had such crazy, outgoing personalities that I have to use the word "formal" very loosely! The bride and groom only encouraged this levity, and we ended up with some incredible and original shots!






Finally, it was time for the reception. We got everyone seated under the tent, and Ari and Connor enjoyed their first dance. Then, the maid of honor, best man, and Ari's dad said a few words. Dinner was served, and then the dancing kicked off with parent dances. But it didn't take long before all those crazy, energetic people were out dancing!










I was especially fond of the dessert that was served—giant cupcakes from the Duck and Bunny in Providence. Each table had a different flavor of cupcake, and they were so big, I felt like I was in Alice and Wonderland!

Perhaps one of my favorite details, though, was the forks inscribed with the famous Star Wars quote. You know the one—the confession of love from Princess Leia to Han Solo: "I love you." and his reply "I know."



Ari & Connor, I enjoyed your wedding so immensely and was honored to be part of it. You two are just my kind of crazy! I wish you both a lifetime of happiness. 🙂 Nicki
Here is a list of vendors who contributed to this beautiful wedding.
Photography: Nicki Pardo and Diana Pozzi for Pardo Photo
Venue: Five Bridge Inn
Caterer: Russel Morin Catering
Cake Artist: The Duck & Bunny
Florist: Betsy Prevett-Fijol
Gown: Isabella's Bridal
Hair: Headlines Hair Design
Makeup: Nicole Treannie
DJ: Kenny Barney