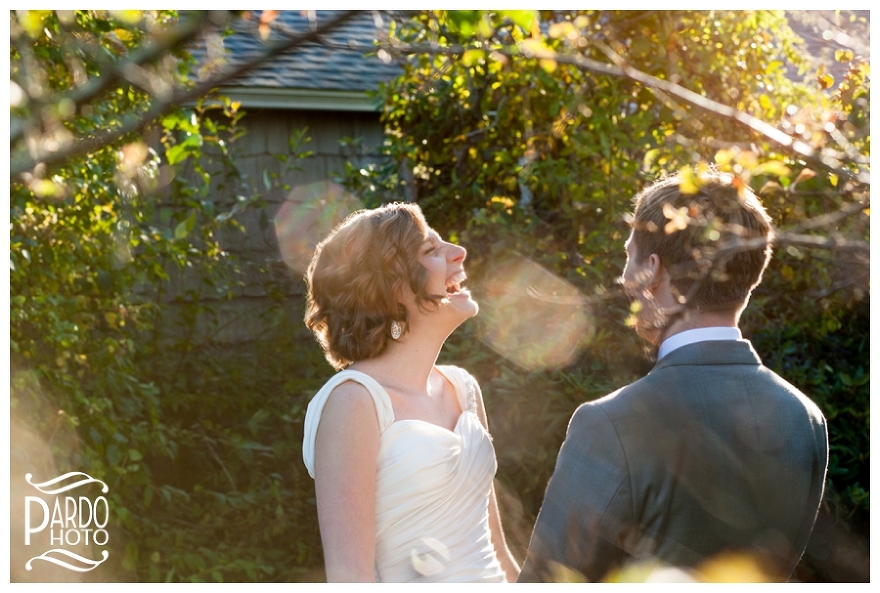 Kate and Evan were married in front of their family and friends on a gorgeous day in October at the Abenakee Club in Biddeford, Maine. The joy in the air was palpable from the beginning of the day to the final celebratory dance. The thing I remember most from the day was the utter joy Kate and Evan had on their faces.
Their story started when they first met in college. Kate lived in the Jewish house on campus and Evan, although not Jewish, managed to get a room because he knew it was great housing. They currently live in Somerville with their super cute dog, Thelma.
On the wedding day, I started out with Kate at her parents' vacation home just steps away from the Abenakee Club. Her dress was purchased at Andrea's Bridal and her hair and makeup were crafted by Acapello Salon. At the same time, my second shooter, Andrea Blundon, spent time with Evan and his groomsmen at a rental property in Biddeford Pool. We met at Kate's parents house for the first look. After a few photos, we proceeded to the Club for family photos. Once we were done, Kate and Evan signed the Ketubah surrounded by family and childhood friends. Then they were married by Rabbi Lennard Thal under a gorgeous birch huppah that had been assembled that morning by the florist, South Wind Flowers. The weather was sunny and glorious. After the ceremony we sequestered Kate and Evan for a few minutes of alone time during which they laughed and kissed and laughed some more. They were SO CUTE!
The couple joined in during the extended cocktail hour, and we took the opportunity to photograph groups of special people for them. The sun set and the reception began with a brief but heartfelt speech by the bride and groom. Black Tie Catering did a great job with the food and I loved the decor, especially the pumpkin escort cards. Kate and Evan had their first dance with the wedding party and family joining in. There were no toasts and no other official dances. They were there to party! After dinner the band, Unity by Murray Hill Talent, began to play and the dance floor was packed the entire time. EVERYONE danced and celebrated. Even when the band would take a break, Kate and Evan turned on their iPod and would dance with each other, they were the only two on the dance floor at those moments and they rocked it out, dancing like crazy. They obviously love to be together and experience the world in similar ways.
I loved being trusted to document this event. Kate's father is an art dealer and an avid photographer (he had my identical camera and lens in hand when I showed up). It took him a while to finally put down the camera but I kept showing him images from mine and he finally just let go. Also, the moments just after the ceremony when we pulled Kate and Evan aside were glorious. They were on such a high and the light was unbelievably gorgeous.
Kate and Evan thank you so much for being so perfect for one another and for truly sharing yourselves and your enthusiasm with everyone at your wedding. Lastly, I would like to thank you, Richard Levy, for putting down your camera and trusting me to document your daughter's wedding. It was my honor and pleasure to record this part of your family's history.