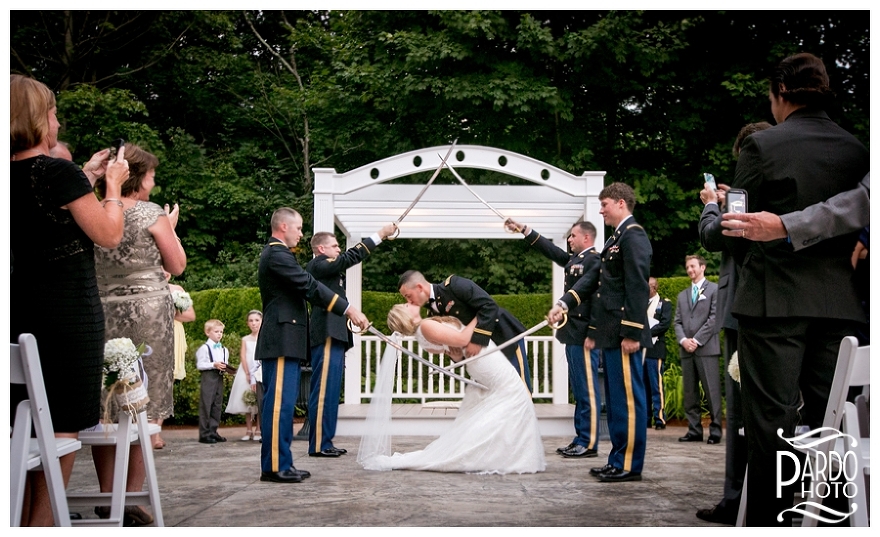 Taylor and Gregg were married on August 22 with a ceremony and reception at the Saphire Estate in Sharon, MA. They are a busy couple: Gregg is starting his new job on the Mansfield Police force after the wedding and Taylor is attending law school and getting her masters degree, but they still made time to plan this beautiful wedding.
The morning of the big day, I met with Taylor at her parents house in Norton, MA where she was getting ready with her parents and the bridesmaids. The atmosphere was calm and joyful. When I got there, all of the bridesmaids had their dresses on and Taylor was just waiting for me to put on her dress. I was able to photograph the details on the dress and her fun personal additions such as her incredible blue cowboy boots and the blue cut-out heart that she had taken from one of her great-grandmother's shirts. Taylor had sewn that piece of cloth into her dress because she wanted to have her close to her heart during the ceremony. Once Taylor was dressed we set up a first look moment with her dad. He was so excited and nervous and proud of his daughter. We spent a few minutes while Taylor's mother and grandmother put on her jewelry. And of course, we captured an image of Brady the dog with his amazing bow-tie collar.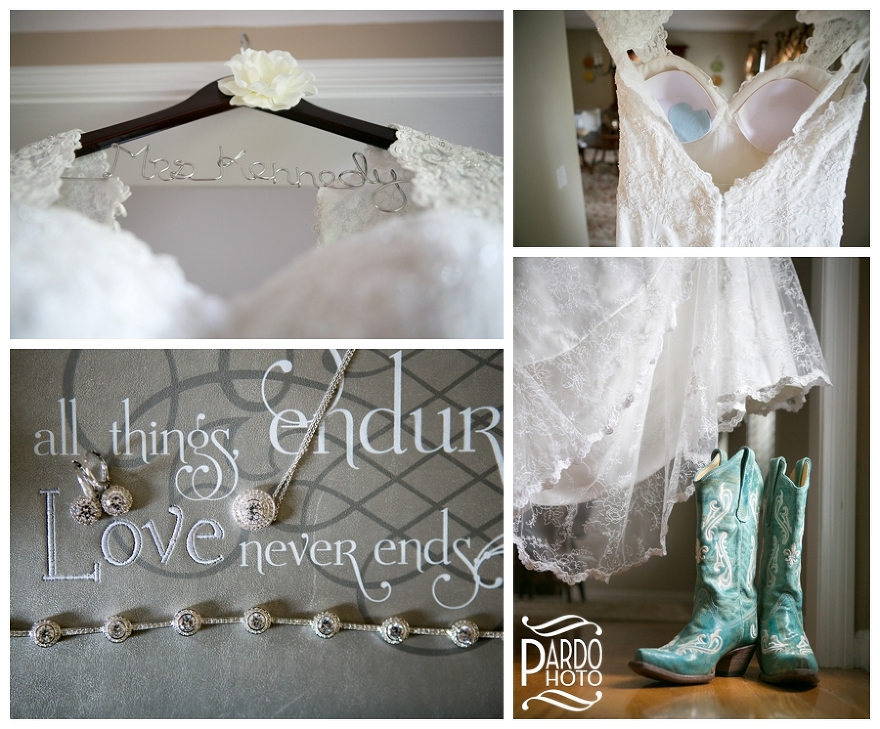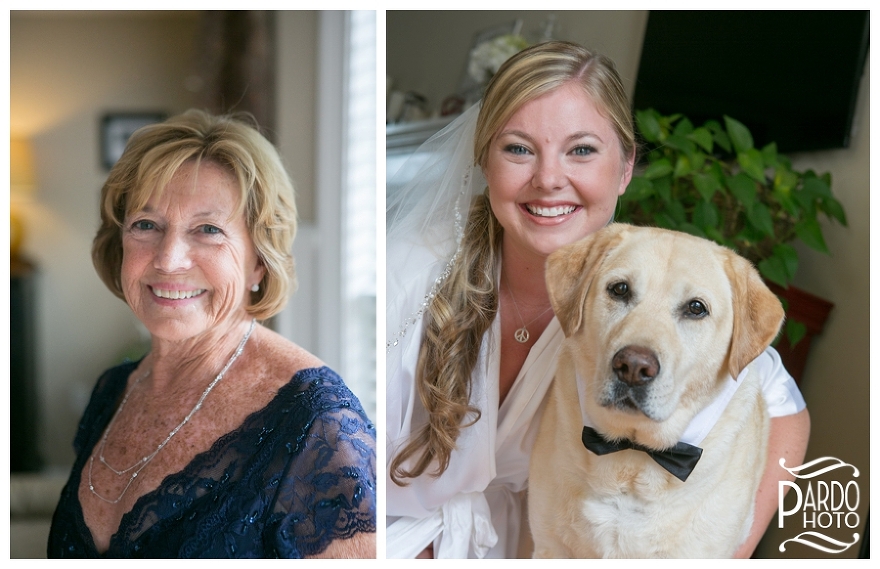 While I was with Taylor, my second photographer Jaclyn Lombardo met Gregg and his groomsmen at the Marriott Hotel. They were all ready to go before she even arrived. Gregg was a bit nervous but being surrounded by all of his friends made for a happy atmosphere. His classmates from Norwich Academy were in attendance as well as his high school buddies. Once Jaclyn finished photographing the men she came over to meet me at Saphire Estate. The men stayed at the hotel and waited for the trolley to arrive.



I headed over to the venue while the trolley transported Taylor and the women, and when the ladies arrived, did some formals with Taylor and the bridesmaids and Taylor's family. We took a little walk down to the lake and shot some images there. After creating some portraits of Taylor by herself, she went inside and waited for the men to arrive for the first look. I did some portraits of Gregg as he waited for Taylor to come up behind him. The first look was fantastic and they were so excited to see each other! I have not experienced a bride and groom that were as happy to be getting married as much as Gregg and Taylor were! After the first look we did some couple portraits and family photos, all prior to the ceremony.














Once it was time for the ceremony Taylor and the women went back inside, while Greg and the guys stayed out to usher the guests to their seats. It was a beautiful ceremony that ended with an amazing sword exit and a dramatic dip and kiss. My personal favorite moment was the unexpected kiss at the end of the ceremony. That was a surprise to Taylor. After all the planning and knowing exactly how the day would go, I thought the surprise was a fantastic gesture that Gregg made.



I  loved all the signage by Maya Allegra Design. Taylor has a fantastic knack for using graphic quotations effectively and the designer captured that part of her perfectly. I loved the sign that the ring bearers were carrying as well as all the signs placed strategically around the venue. There were signs on the gift table, on the couples table as well as the mantle where loved ones who had passed were honored. I also particularly liked the way they presented the program of events as a fan that could also be used during the ceremony.









As I was photographing the ceremony and focusing on Gregg's parents and grandfather I noticed a moment when his grandfather looked up to the sky. I know he must've been thinking about his wife Kay who had recently passed. Kay was Gregg's grandmother and an extremely important person in his life. It felt good to feel like she was there with them at that moment.




After the ceremony we went down to the lake with Taylor and Gregg to do some more couple portraits. Once we finished there we headed back up to the venue.





I LOVED working at the Saphire Estate, they couldn't have been nicer, and all of the details were perfect!




Finally, it was time for the reception to begin. Introductions were crazy and lively! Taylor and Gregg also came into a crazy dance song and then slowed it down for their official first dance. The rest of the evening was filled with fantastic toasts by the best man and maid of honor, a memorable cake cutting with one of the swords, and and dancing dancing dancing! Also, the food and the service was impeccable.























Thank you so much Taylor and Gregg for including me in this unbelievably joyful wedding! It has been an honor to have been your wedding photographer. After knowing Gregg all these years it was my absolute pleasure to see how happy the two of you make each other. I wish you a long life of happiness, laughter and love.
Team of Vendors:
Second Shooter: Jaclyn Lombardo
Caterer: Saphire Estate
Papergoods: Maya Allegra Design
Cake Artist: Just Desserts
Florist: Judy's Village Flowers
Gown Boutique: Bella Sera
DJ: Mike's Music, Inc.